Prices of

toluene

in Asia recently showed a rapid sharp rise in the trend. Up to the close on the 26th, FOB Korea toluene prices closed at 756.5 US dollars / ton, up 61.5 US dollars/ton than the previous month , reached an increase of 8.85%. There are two main reasons for this:
On the one hand, the rapid rising speed of crude oil,which as a benchmark ,has brought more cost support to the market.
The weak economic data and uncertainties in the political outlook in the United States have caused the US dollar to plunge. From the previous U.S. tightening cycle, it can be found that there are many similarities between the global macro environment and 2004.Therefore, the market expects the dollar index to plunge. Because of the impact of the accelerated decline in the dollar, the recent overall performance of crude oil is more strong, and WTI prices hit a dish in the January 25 intraday high of 66.66 US dollars / barrel, the price reaches a height of nearly three years, which brought to the toluene market in Asia more cost support.
On the other hand, toluene – pure benzene spread widening, resulting in increased demand for toluene disproportionation.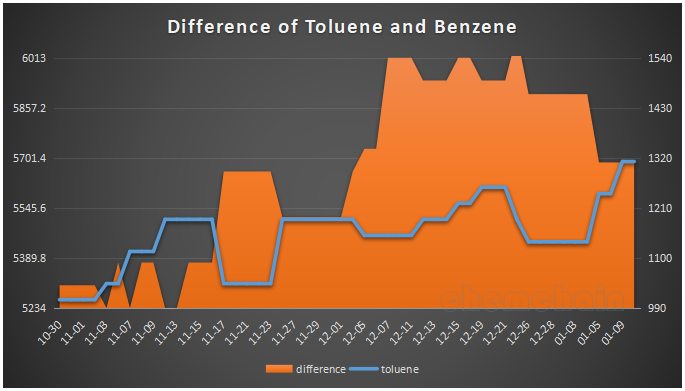 It can be clearly seen from the figure that the obvious increase of toluene-pure benzene price from December 2017 shows that the profit of toluene disproportionation is considerable, and the load of some plant disproportionation units starts to increase slowly.The support from the demand for toluene disproportionate driven toluene prices in Asia higher.
In the latter part of the period, considering that the Chinese market, as the major consumer country in February, will be in the Spring Festival holiday most of the time, the market is bearish on the demand side and will have a more negative impact on the market. It is expected that the toluene market in Asia may be in slight adjustment in the future.